JLL awarded APAC Facility Management Company of the Year
Frost & Sullivan assesses the capabilities of JLL in the Facility Management sector and recognises its unique position to stay ahead of competition in the region. 
2022 Asia Pacific Facility Management Company of the Year Award
Frost & Sullivan recently assessed the facility management industry in Asia Pacific and based on its findings, has recognised JLL with the 2022 Asia Pacific Facility Management Company of the Year Award.
Facility management is an increasingly crucial component in meeting the expectations of occupiers and their businesses, particularly in the new hybrid era. It is a massive task; from delivering excellent employee, customer, and visitor experiences, to providing a comprehensive operating platform that connects people, data, technology, and sustainability, all the while mitigating risks and costs.
To be awarded, Frost & Sullivan evaluated how JLL promotes operational efficiency, scalability, and performance in the facility management sector, calling out specifically JLL's suite of standardised services across all regions and its value-added services. It said "JLL's competitive positioning, average renewal rate of 95%, more than 450 customers, and technological advancements contribute to its market leadership position."
Leaders in the Facility Management Industry 
According to Frost & Sullivan's Buildings Research Program Manager, Janice Wung, "JLL's ability to strategize, tap into upcoming opportunities in new sectors, and expand its footprint in targeted country markets while maintaining its leadership position in core markets, reflects its leadership focus on building stiff barriers to entry and upholding its strong brand equity in the market."
It is also due to JLL's commitment to innovation as shown through its investment in technologies that address underserved operational efficiency, enhance the client value proposition, and better cater to sustainable needs. JLL's strategies and implementations have led to consistent and repeatable success in revenue growth and customer acquisitions.

Facilities Proptech Leadership
JLL's technology-enabled products were also highlighted as a success factor. Among products mentioned was Data Center+, the industry's only global end-to-end, technology-enabled platform for owners, operators, and users, which eliminates potential system failures and optimizes the total cost of ownership.
Canopy, an industry-leading sustainability technology and analytics platform, aligns with JLL's sustainability direction. The platform centralizes utility and environmental data to more efficiently manage and monitor cost and performance, allowing companies to quickly pinpoint opportunities to optimize sustainability performance and reach their net zero carbon goal.
Frost & Sullivan also added that "JLL offers customer purchase and ownership experience to improve the strength and loyalty of its client relationships. With customer satisfaction, contract compliance, governance, talent, and performance, it raises the bar on operational excellence and customer value."
For organisations adapting to the realities of delivering FM services in hybrid environments – we can offer dynamic facilities solutions, delivered by FM professionals who will focus on delivering seamless, hospitality-driven, sustainable services that ensure functionality, comfort, safety and efficiency of your workplace and provide the foundation for your people and your business to thrive.
Why outsource your facility management to JLL?
Save 10 - 25%
Outsourcing of facility management has the potential to deliver savings of 10-25% of property related spend.
Leverage data and tech
Utilise real-time data to drive decision making and deliver a high-quality workplace experience.
Increase ROI
Tap into JLL's technology to achieve operational excellence with safer buildings, minimized risks and better insight into costs.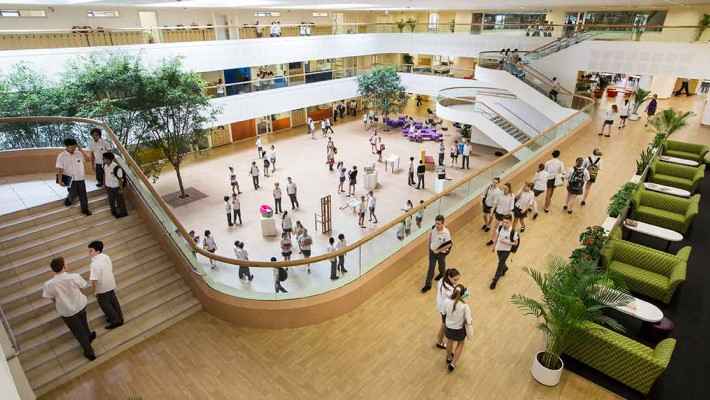 A trusted partner for Kellett School
One of Hong Kong's premier international schools sought to find a partner who could assist with the day-to-day management and operations of the school's facilities. They share with us a passion for sustainability.
Talk to us about your facility management requirements

PRIVACY NOTICE

Jones Lang LaSalle (JLL), together with its subsidiaries and affiliates, is a leading global provider of real estate and investment management services. We take our responsibility to protect the personal information provided to us seriously.
Generally the personal information we collect from you are for the purposes of dealing with your enquiry.
We endeavor to keep your personal information secure with appropriate level of security and keep for as long as we need it for legitimate business or legal reasons. We will then delete it safely and securely. For more information about how JLL processes your personal data, please view our privacy statement.