JLL Philippines names BPOs, ecommerce, logistics as space demand drivers
Trends and forecast in JLL Philippines' real estate market overview for Q2 2022
The second quarter of 2022 saw real estate momentum carried by sustained positive market sentiment, according to real estate consultancy firm JLL Philippines. In JLL's real estate market overview for the second quarter of 2022, the firm presented trends in the office, retail, residential, and hospitality sectors, as well as an overview of logistics and industrial opportunities in Metro Manila. The event delved into a case study of a similar leasing market through the lens of JLL Office Leasing Advisory in India.
The presenters from JLL Philippines were Janlo de los Reyes, Head of Research and Strategic Consulting; and Charlie McNaught, Director for Logistics and Industrial. They were joined by JLL India's Rahul Arora, Head of Office Leasing Advisory. The event is hosted and moderated by Joey Radovan, JLL Philippines' Country Head.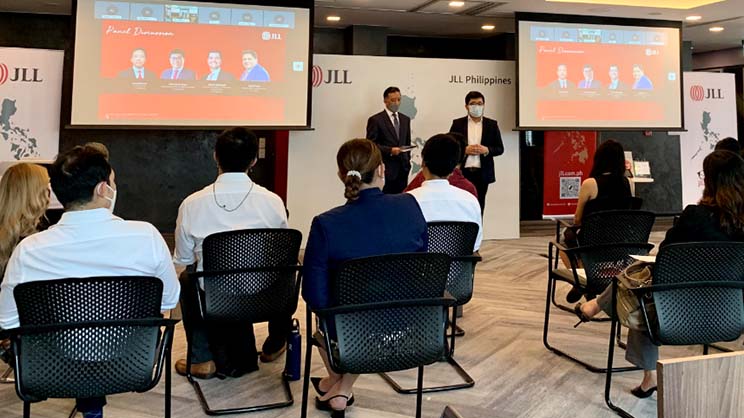 Metro Manila Office Overview
"Sustained positive market sentiment carried real estate momentum in the second quarter of 2022," said de los Reyes. In Metro Manila, office leasing volumes continue to climb, with a 21.2% increase compared to the previous quarter. Demand in the second quarter of 2022 is diversified, meaning there are different sectors leasing spaces, compared to the IT-BPM-driven first quarter. Non-IT-BPM services account for 45% of demand, while IT-BPM and POGO players represent 42.7% and 12%, respectively.

Office move-outs and rightsizing are still ongoing. Office vacancies continue to stabilize, playing at just around 17.5% for the past four quarters, despite the market seeing 54,090 sqm­ in new supply in the second quarter. The gap between headline and transacted rates continues to narrow, closing in at 9% in the second quarter of 2022.

Retail, Residential, Hospitality
Move-ins are gradually outpacing move-outs in the retail industry. The food and beverage sector continue to lead both move-ins (22.1%) and move-outs (23.6%). "The improving demand and the absence of supply saw vacancy ease," said de los Reyes. "Rents are gradually climbing, and lease terms are returning to pre-pandemic arrangements," he added.

In the residential sector, return-to-office and soft rentals continue to drive leasing demand, as people are moving back from the province to stay in units near their workplaces. Residential sales continue to move sideways, while prices maintain growth uptick behind flexible terms.

In the hospitality sector, occupancy levels decline as demand slows down. It must be noted that select segments (Luxury, economy, and midscale) registered smaller occupancy decline. Room rates are picking up, but the average as of the second quarter of 2022 (PHP6,100 per room per night) is still far from pre-pandemic rates (PHP 9,100 per room per night in 2019). The luxury segment continues to lead room rates, averaging PHP 15,390 per room per night in the last quarter, owing to reopening of club rooms and exclusive access areas. Economy rates closed at an average of PHP 2,280 per room per night.

Investing in Logistics
McNaught said that it is timely to invest in the logistics and industrial sector as the global allocation increased. "The overwhelmingly strong demand from e-commerce, third party logistics (3PLs) and fast-moving consumer goods (FMCGs) is being met with a critical lack of modern logistics supply, suitable for the occupational needs of these occupiers."

He also touched on growing subsectors such as cold storage and urban logistics. "Further to this, we are seeing demand from sub-sectors such as cold storage and urban logistics to supplement the backlog of requirements due to increased demand from grocery and next day delivery," he added.

JLL foresees the structural change in the market to continue. "We think it's a new trajectory in the logistics sector, especially in Southeast Asia." McNaught reiterated the benefits of investing in logistics and industrial as a sector: optimizing underutilized land assets, stable long-term income returns, strong occupation backdrop leading to rental growth, diversification, and resilience in a non-certain market.

India: A case study of finance and BPO-driven leasing
"India is seen as a one-stop shop for global companies," said Rahul Arora. He said that India and the Philippines have very similar leasing markets driven by finance and BPO demands. Top sectors include finance services, flex, technology, and life sciences.

"Vacancy levels are beginning to dip in key markets across main cities, much like in the Philippines' leasing market," said Arora. India is experiencing a rebound in office leasing activity across key markets, and for the first half of 2022 has achieved an absorption record of 24.8 million square feet. He said offices will remain relevant, as trends point to increasing return-to-office (RTO), causing a robust demand pipeline in office leasing for the second half of 2022.
On leasing trends and the future of work, Arora said that "work patterns may change but revolve around office as the hub for collaboration, experience and interaction." This is evidenced by the move of organizations from remote/virtual during the pandemic to now hybrid. "The hybrid market is currently most saturated, and it's interesting to note that work is slowly returning to the left side of this spectrum," he added.

Arora ended his presentation with trends influencing the future of work, citing sustainability as a priority, increased focus on tier 2 or 3 cities (beside business hubs), repurposing workspaces, flex, and health and wellness as key trends in the coming months.
Outlook
JLL expects the Metro Manila real estate market to see continued gradual market recovery, and sustained momentum in the third quarter, owing to increasing return-to-office (RTO) by occupiers. On the topic of RTO, de los Reyes cites JLL Work Dynamics' six key workforce preferences. de los Reyes also presented highlights from the State of the Nation Address which may affect the real estate market, such as increased incentives outside Metro Manila, increased focus on infrastructure – specifically on transport and railway, and digital business expansion, which is seen to affect data centers. Lockdowns no longer to be issued is also cited as a key point, as it will encourage organizations to operate at business-as-usual (pre-pandemic) levels.

JLL has been operating in the Philippines since 1997 as a 100% wholly owned entity and currently manages about 9.4 million square meters of real estate with a workforce of over 1,200 employees.

With twenty-five years of local expertise working hand-in-hand with its global legacy, JLL provides to the Philippine real estate market an unparalleled synergy of services with a strong commitment to achieve real estate ambitions through future-ready approaches. For further information, visit www.jll.com.ph.
---
JLL (NYSE: JLL) is a leading professional services firm that specializes in real estate and investment management. JLL shapes the future of real estate for a better world by using the most advanced technology to create rewarding opportunities, amazing spaces and sustainable real estate solutions for our clients, our people and our communities. JLL is a Fortune 500 company with annual revenue of $19.4 billion, operations in over 80 countries and a global workforce of more than 100,000 as of March 31, 2022. JLL is the brand name, and a registered trademark, of Jones Lang LaSalle Incorporated. For further information, visit jll.com.